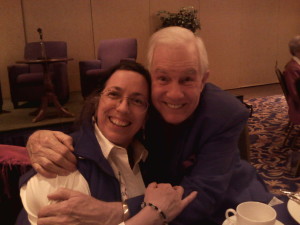 Death of a Great Publishing Icon
I was deeply saddened  when I learned that Dan Poynter passed away last month.  My memories of meeting him rushed through my mind as tears streamed down my face.
I first learned about Dan in 1991 when I bought a copy of his book Self Publishing Manual.  I read it cover to cover and cemented my commitment to book publishing.  I applied his principals to the book I was writing including forming my own publishing company and buying my first block of ISBNs.  I followed his words to the letter.
When I joined Colorado Independent Publisher's Association and attended their annual 2-day conferences (CIPA College), Dan was a speaker.  I first met him in person in 1995.  I went up to him and asked some questions not sure what they were now, but he was more than generous with his answers.  He was encouraging, supportive and never tired of the same questions.  Dan spoke at CIPA College many more times before I relocated from Denver to Philadelphia in 2001.  After that I continued to follow him, buy his books and reports and looked to him as my publishing mentor.  I never lost track of Dan since I knew I could always go to his website when I needed an answer.  Once I relocated, I couldn't find any self publishing groups anywhere along the New York to Washington corridor.  I kept writing, however, and never forgot Dan's material each time I wanted to publish.
In 2009, I attended a 2 day publishing conference in the Philadelphia area and Dan was the key speaker.  I was thrilled to see him once again in person.  Of course I went up to him and gave him a quick synopsis of how he has been my publishing mentor all these years, and how thrilled I was to see him speak again.  He asked me to sit next to him at the conference dinner and we had wonderful conversations and lots of laughs.  And a table mate took our picture.  It's one photograph I'll treasure for a lifetime.  Little did I know it would be the last time I would see him.
So when I got an email from Smashwords with the subject line "5 things for authors to know" I scrolled down and saw #3 "Dan Poynter Remembered" I knew, "oh no he died." I took the next hour reading various notices, obituaries and wikepedia / about.com to learn what happened and when.  But the why he was taken from us so young will never be answered.  I just have to trust that God felt his work was done.  His work with us author/publishers will never be done, he will live on in our hearts and minds. His words of support, encouragement and knowledge will remain in our thoughts. When I saw him in 2009, I marveled at how he embraced technology within the book publishing industry, and encouraged us to never waver from paper books even with the ebook craze.
I'm sad for the loss of such a knowledgeable man who was the godfather of self publishing and who paved the way for us to be successful as indie publishers. I will treasure my photograph of us together at that 2009 dinner. Most importantly I will continue to do my best to make Dan proud as an author and publisher following what he taught me and embracing the ongoing changes in the publishing world.
RIP Dan, I will miss you … we will all miss you.
Rosemary Augustine – Author & Publisher
~~~