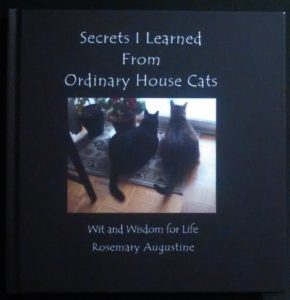 This is a continuation of my prior blog post detailing my experience with Ingram Spark.  As you can see, I have completed the hard cover of Secrets I Learned From Ordinary House Cats.  However, I must admit, the book overall is not to my satisfaction.  Read on…
When I left off with my last post about Ingram Spark failing my test, I walked away for a couple of months, until I got an email that offered no initial upload charge through the end of 2016.  It was only a $25 savings, but it was more about "let's give them one more chance on their dime."  I worked out the bugs on embedding the font and struggled with the cover requirements.  After several calls for tech support, I was always directed back to their website to read "the tools section."  Not once did either person I spoke to walk me through what I had to do.  They would only direct me to "READ OUR INSTRUCTIONS IN THE TOOLS SECTION."   After 10 published books, if I need my hand held for their "clear as mud" instructions, then how does a new author handle this kind of need for technical support?  After a few weeks and many phone calls to them to clarify the additional "mud," I was ready to submit my book for their review and approval.  Within a few days, I was notified that my book was approved and ready for print.  Great!  I wanted to order a proof copy to view before I would authorize it to be available for sale.
My book was priced at $19.95 (same book with a the soft cover at Amazon is $12.95).  The reason it was so much higher was my expected royalty. If I priced the hard cover at $12.95, my royalty would be a negative 23 cents (which means I would have to pay them 23 cents for every one sold).  My royalty on a $19.95 book at Ingram Spark is $3.97 if the 40% bookstore discount is honored.  I was expecting this hard cover book to go into specialty stores, to compete with two other hard cover cat books (of which will remain nameless).  So my analyzing skills were put to the test. My specs included:
8" x 8"  size;
black/white interior;
Matte finish on cover;
hard cover case laminate;
104 pages;
40% store discount (standard discount).
My cost to purchase a proof copy was between $14 and $21.  This was broken out as follows:
$8.00 printing charge
$1.65 handling charge (excuse me?  Shouldn't this be part of the printing charge?)
$0.63 sales tax (Remember, you also get charged sales tax on the printing and handling. Mine is 6-1/2%.
$3.80 shipping slow boat – basic and not trackable nor insurable;
$11.98 for residential ground (it's $8.56 for commercial ground – now that's discrimination)
$59.37 if I want next day… (FYI, Amazon's Create Space offers next day at $15.98 for your proof copy)
So I paid $18.25 for my first proof copy (the amounts are never the same every time you want to order a copy, and I'm not sure why).  I ordered it the 25th of September and within 3 weeks it still had not arrived.  I called once again to inquire and was told I had to approve my proof copy in order to receive a hard copy.  My response was "I don't want to approve a proof copy, since I need to see an actual hard copy before I approve it."  Well this time they did walk me through the page where if you are not careful, you easily approve it ready for customers to buy (tiny check boxes and fine print even on the computer).  Because I was out of town and had requested the book to be sent to the address where I was staying and it never arrived – well it was never going to arrive, because I didn't "approve" the book.  I asked the lady, if I had to approve it in order to get a proof copy, then WHY did you allow me to order a copy and take my money?  Shouldn't a pop up notify me I couldn't proceed?  Well she couldn't answer that but said she would cancel the order and refund my money, and I could reorder once I "approved" the book.  She assured me I would have my refund in 3-5 business days.  That was October 17th.
I ordered another book, this time my cost was $16.00.  I found it odd that it was less and no cents (originally it was $18.25).  Almost 3 weeks later here comes the book.  I was excited when I opened the package and was in awe of the cover.  The hard cover in a matte finish was exquisite.  But, when I opened the book… I was in shock to see that the photos were almost black and the weight of the paper so thin, you could see the print on the back side of the page – interfering in reading the page you were on. How could this be?  The same manuscript with the same photos is uploaded at CreateSpace.com and the black and white photos are clear and recognizable on the CreateSpace book copy.  Ingram Spark required all photos to be "gray scale" something that is not on the original manuscript that was uploaded to CreateSpace.  Also, because I had so many pictures in the book, Ingram Spark charges a premium for printing the photos, even though they are part of the PDF file and no extra effort on their part.  And, no, that's not what the $1.65 handling fee covers.
Totally unacceptable to "approve" for customers to purchase, I had to wait a few days for me to "cool down" so I could call them and cancel everything out, delete the file, lose out on one ISBN; a calmly tell them it's not to my satisfaction.  Why you must be asking "why would you want to cancel the whole project, just correct the photos and upload a new file."  Ha!  To do this would be an additional $25 upload fee, not to mention another $16 or $18 or whatever to view a proof copy again.  Keep in mind I had received a free upload initially… if I hadn't, that would be $25, plus the additional $25 to upload another file AND, the printing and shipping charges now approaching $32 if I went with another proof copy.  This whole experiment was to prove a point, "is Ingram Spark worth it?"  I felt like I was being "nickel'd and dime'd" to death with $50 – 80 adding up and no help to adjust the issue, but keep paying for proof copies and corrected uploads.  It's already Thanksgiving by now and I've lost my window to be available in stores for the holidays.
Oh… and by the way, I had to call the middle of November about my refund that I never got… because the girl "assured" me, but never sent it to accounting (according to Anne in accounting she never got the request).  I finally got my $18.25 five days after I spoke with Ann in accounting.
So, personally, I have completed my experiment with Ingram Spark.  Much to my disappointment, the only good thing that came out of this whole darn crazy mess was this:  I decided to use another ISBN and take the 8"x 8" manuscript and  matte cover to CreateSpace.com (their size is 8.25"x8.25") and print it as a soft cover, keep the price of $12.95 and continue to receive my $5.62 royalty for each book of which my cost is still $2.15 and minimal shipping. Sadly, CreateSpace.com no longer offers hard cover books.  So I'll stick with the soft cover.
So there you have it.  Ingram Spark is not for me… However, that doesn't mean it's not for you.  I'm sure you'll have better luck than me, or at least I hope so.
Keep on Writing…
Rosemary Augustine – Author and Publisher
Comparison Chart
| | | |
| --- | --- | --- |
| Ingram Spark | vs.  | Create Space |
| 8" x 8"  size; | | 8.25″ x 8.25″ |
| black/white interior; | | black/white interior |
| hard cover case laminate; | | soft cover matte finish |
| 104 pages; | | 104 pages |
| 40% store discount | | royalty lowered to expanded distribution (book stores) |
|  My cost to purchase a proof copy was between $14 and $21.  This was broken out as follows: | | My cost between $6 and $18 |
| $8.00 printing charge | | approximately $7 |
| $1.65 handling charge (excuse me?  Shouldn't this be part of the printing charge?) | | N/A |
| $0.63 state sales tax (Remember, you get charged sales tax on the printing and handling. | | Sales tax collected |
| $3.80 shipping slow boat – basic and not trackable nor insurable; | | $3.59 basic about 2 weeks |
| $11.98 for residential ground (it's $8.56 for commercial ground – now that's discrimination) | | $11.18 for 2 day |
| $59.37 if I want next day… | | $15.98 for overnight |
~ ~ ~