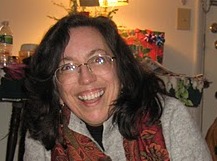 A native of southern New Jersey, Rosemary Augustine spent most of her adult life living in California and Colorado, and returned to the Philadelphia area in 2001 to care for an aging parent.
Rosemary calls herself a Journal Aficionado (License Plates in the last 2 states she lived read: "Journal")… as she is an avid writer, including a daily journaling practice.  She writes fiction and non-fiction books. Her artistic endeavors include acrylic painting and mixed media collage, and she designs hand-crafted journals that she often gives as gifts or sells. 
While living in Colorado in the 1990s, Rosemary Augustine was very active in the independent publishing community.  Former President of Colorado Independent Publishers Association, Rosemary was often a speaker at the Rocky Mountain Book Festival and The Aspen Writer's Conference on the topic of self publishing.
When Rosemary relocated to the NJ/PA area in 2001, she continued to write, and write, and write, as she did not publish any works for 12 years.  She did, however, insist on the personalize license plates that say "Journal" to remind herself to journal everyday and inspire others to do the same.  By 2012 she released her 3rd book – 365 Days of Creative Writing which offered the reader 365 journal prompts for every day of the year. A year later, Rosemary released 3 more books.  She continues to write and publish multiple books each year since.
In 2012, Rosemary formed a MeetUp.com group called "Self Publishing for Writers" and the group met monthly in Wayne, Pennsylvania.   During the 3+ years that she facilitated the group, more than half the members self published books.  She continues to facilitate this group now called Indie Authors and Publishers via monthly teleconference calls.
Rosemary is the author of the books found on this website including 365 Days of Creative Writing (365 Journal Prompts), Secrets I Learned From Ordinary House Cats and Adventures with Byron which are some of her more popular releases. Rosemary is listed in Who's Who of American Women and Who's Who in the World.
Rosemary continues to write and publish books, and continues to honor her spiritual essence. In 2015, she relocated to Melbourne, Florida with her famous cat "Ziggy" – who is the featured feline in the book, Secrets I Learned From Ordinary House Cats, has a password keeper called, Ziggy's Secrets, and has his own Facebook page and website:  MyCoolCatZiggy.
. . .