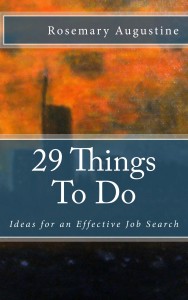 29 Things To Do
Ideas for an Effective Job Search
Author: Rosemary Augustine
Publisher: Blue Spruce Publishing
ISBN: 978-0-9644711-0-8
Soft Cover | Trim Size: 5″ x 8″ | Total Pages: 40
 Cost: $9.95 
Contact Info: 610.647.8863
Contact the Author: info@RosemaryAugustine.com
Contact the Publisher: info@BlueSprucePublishing.com
Where to Find 29 Things To Do 
     Amazon  |   Amazon Kindle  |  The Publisher 
Individual or Quantity Purchases Direct From the Publisher
 Cost is $9.95 – plus $3.00 Shipping USA only
Individual books are shipped via USPS; Quantity purchases require a purchase order and will ship via UPS. A shipping fee is added to invoice. Checks and Credit Cards Accepted. Make checks payable to Rosemary Augustine and mail your check to:
Rosemary Augustine c/o Blue Spruce Publishing
2175 Golf Isle Dr. #1024, Melbourne, FL 32935
About 29 Things To Do:
When you think you have done everything in the job search… No matter where you are in your job search, we often get stuck and just stare out the window… thinking we have completed all that we can do for now. Resumes sent, calls made and papers filed, so we wait! What more could there be to do? There are a lot of things we can do, like balance the checkbook or take a nap. But does it get us closer to a new position? How do you motivate yourself? When you've sent the resumes and now you are playing the waiting game, what else is there? What can you do when you think you have nothing left to do? Author Rosemary Augustine compiled a list of 29 Things To Do that will help you in your job search for those days when you think you have nothing left to do, helping you reach job search success.
1. Know you are not alone. We may feel isolated when in a job search, spending countless hours in front of the computer, searching online for the endless postings that rarely result in an offer. Know that you are not alone doing this or even feeling this way. Team up with a colleague who may also be job searching, using several of the tips recommended in the book like practicing your interviewing skills or scheduling lunch with a former co-worker for networking opportunities. Getting out and talking to people breaks the isolation and building on your networking in the process.
2. Overcome your fear of asking for what you want. Meditating, visualizing and using motivational tapes help you be much more self-assured with believing in your abilities and being comfortable verbalizing them. A job search is not always just time searching for a job or sending resumes. It's working on improving your skills, strengthening your confidence and educating yourself about networking, resulting in walking through your fear and being confident asking for referrals, the job and the salary you would like to receive.
3. It's a job, so make it fun. The hardest part of a job search is realizing at the moment, this is your full time job. There are many aspects of it that are not enjoyable, and can be downright painful. Since it is not something you find easy to do, give yourself a break and recognize that incorporating fun into your routine will make you more productive. As part of your process, include time off, lunch appointments with friends and even a weekend or week-long get-a-way to recharge yourself. Have fun in the process and you will lighten the stressful load of the job search.
These are just a few things offered in the book 29 Things To Do – Ideas for an Effective Job Search. By incorporating these 29 Things in your job search, you will be on your way to accepting your desired position with much more confidence in yourself.
. . .