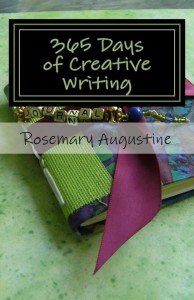 Title: 365 Days of Creative Writing
Author: Rosemary Augustine
Publisher: Blue Spruce Publishing Company
ISBN: 978-0964471115
Price: $18.95 USD plus Shipping
Soft Cover Book with Trim Size: 5.5" x 8.5"
Page Count: Approx. 388 pages
Contact Info: 610.647.8863
Contact the Author: info@RosemaryAugustine.com
Contact the Publisher: info@BlueSprucePublishing.com
Where to Find 365 Days of Creative Writing…
  YouTube Video   Amazon   Tattered Cover – Denver   Barnes & Noble   Amazon Kindle   NewBookJournal   Smashwords   Good Reads  the Publisher 
Individual or quantity purchases direct from the publisher: $18.95 – Plus Shipping. Individual purchases are shipped via USPS 1st Class or Priority Mail; Quantity purchases require a purchase order and will ship via UPS, shipping is added to invoice. Checks and Credit Cards Accepted.  Make checks payable to Rosemary Augustine and mail your payments to:
Rosemary Augustine c/o Blue Spruce Publishing
2175 Golf Isle Drive, #1024, Melbourne, FL 32935
~
About the Book – 365 Days of Creative Writing
A daily writing practice requires constant feeding of new ideas to draw from deep inside your writing well.  This book offers daily prompts to get your creative juices flowing and provides the kick start necessary when you are faced with writers block.  Even when journaling on a daily basis, the writer is often faced with writer's block.  Using journal prompts gives your writing a boost whether you are journaling at 6:00 am or midnight.   Prompts help you break through patterns, toxic relationships or expand your creativity using journaling as a means of going deep inside and finding answers that never can be found externally.  The more you journal, the more creative you become, and the more creative you become the more productive you become in your life.  Funny how something so simple is often so feared.  By journaling, your writing feeds your mind and heals your soul.  Give your writing a boost whether you are writing your memoir, have a daily journaling practice or building fictional characters for your next book.  Break through writers block with 365 prompts and creative ideas to expand your thoughts and open new writing avenues.  Filled with words, phrases and spiritual inspiration, this book sparks the writer to write on the blank page – anytime.   These creative exercises keep you writing and help you build a daily writing practice to complete your book, initiate change and/or  promote personal transformation.  Writing feeds the mind and heals the soul.  No writer should be without these prompts.
. . .