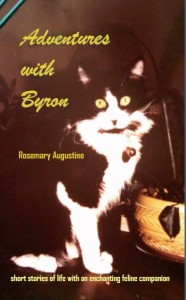 Title: Adventures with Byron
Author: Rosemary Augustine
Publisher: Blue Spruce Publishing
ISBN: 9781943581016
Price: $15.95
Soft Cover Book with Trim Size:  5″ x 8″
Page Count: Approx.  125 pages
Contact Info: 610.647.8863
Contact the Author: info@RosemaryAugustine.com
Contact the Publisher: info@BlueSprucePublishing.com
Where to Find Adventures with Byron 
 Amazon | Bookstores* | NewBookJournal |Publisher
*Ask at your local bookstore as they can order for you from the distributor
Amazon Kindle |Smashwords | Good Reads | Pinterest | Nook 
Individual or Quantity Purchases Direct From the Publisher
 Book is $15.95 – Plus $3.00 Shipping
Individual books are shipped via USPS 1st Class;
Quantity purchases require a purchase order and will ship via UPS, a shipping fee is added to the invoice. Checks and Credit Cards Accepted. Make checks payable to Rosemary Augustine and mail your check to:
Rosemary Augustine / Blue Spruce Publishing
2175 Golf Isle Dr. #1024, Melbourne, FL 32935
About Adventures with Byron
Adventures with Byron offers the reader a glimpse into the life of an enchanting feline. Born in the wild and quickly domesticated, few were afraid of him, most were in awe of him.  Byron's markings and stature suited his namesake.  His presence when he entered a room made people stop and stare.  He graced the floor like an oriental carpet.  He was Lord Byron, King Kat of the Augustine Household, making all the rules for others to live by, and smiling at you with that toothy fang grin.  You will enjoy many love poems and entertaining stories of this feline's life and travels with an adventurous human companion.  You will laugh, cry and wonder… along with wander across the United States on numerous treks with Byron. A feline companion who was truly enchanting, he still holds a special place in many a heart.
Excerpts from Adventures with Byron:
Cooking in the Kitchen:
I'll always remember sitting with you in the kitchen while you cooked dinner. It was a pleasure sharing that chore with you. Remember the time you filled the dishwasher and pushed "start" and then returned to cooking on the stove? You often did this.  But this time to my surprise within minutes, we were being engulfed in soapsuds. But your back was to me so you paid no notice. As I called to you, you ignored my cries, thinking that I probably wanted to taste the savory dish you were cooking and your thoughts were that I had enough.  Suddenly, I let out a loud yell and startled you enough this time to turn and look at me, engulfed in soapsuds spewing from the dishwasher. "Turn that thing off" I thought, "and get me out of here." You quickly snatched me up and flipped the dishwasher lever to 'off'… saving me once again. As we ran from the kitchen laughing so hard, we suddenly fell down crying, and continued crying from laughing so hard.  Dinner was not lost, but what a job cleaning up all those bubbles that were three feet high in the kitchen. We had a good laugh about it even years later. It was just another day of memories I'll take with me filled with your laughter.
Tornado Alley:
First the rain came, then the thunder and lightning. But when the siren blared, it was time to take cover. We headed to the basement and hovered under the stairs like war-torn refugees. I trembled in my partner's arms fearing I would be taken for some unknown reason. She was scared too. The windows rattled like a child desperately trying to exit a locked door. Frightened, we sat and waited for it to pass. What was minutes seemed like hours. Our hearts beating to the rhythm of the torrential rain pounding against the concrete. This was like no other storm. We had taken shelter in the past, but nothing came as close as this one. We waited – our hearts beating faster and faster. Was this ever going to end? Suddenly, there was calm, the siren stopped and we emerged unscathed once again. My partner, my hero, kept me safe during one of Denver's most destructive tornados. It was May 1987, and the path missed us by a few blocks. But the sound … oh that sound – like a freight train headed right for me. I'll never forget that sound. This was one adventure I could do without.
. . .
In the words of the author:
While writing this book, my decision was to write the words from Byron's voice, giving this story a unique sensitivity. It is this perspective of our life together – his eyes looking back at mine – which results in giving Byron many human qualities. As you read the stories, you decide if there are times these words read like two people sharing life and love together, and whether you can decipher the line of who is the human and who is the feline.
~~~