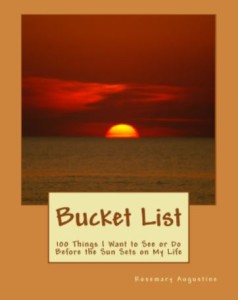 Title:  Bucket List
     100 Things To Do or See Before the Sun Sets on My LIfe
Author:  Rosemary Augustine
Publisher:  Blue Spruce Publishing
ISBN: 978-1-943581-02-3
Price:  $12.95
Soft Cover Book with Trim Size:  8 x 10 inches
Page Count:  208 pages
Contact Info:  610.647.8863
Contact the Author: info@RosemaryAugustine.com
Contact the Publisher: info@BlueSprucePublishing.com
Where to Find Bucket List Journal  
   Amazon | Bookstores* |   The Publisher 
*Ask at your Bookstore, they may have to order if from the distributor.
Individual or Quantity Purchases Direct From the Publisher
 Book is $12.95– Plus $3.00 Shipping
Individual books are shipped via USPS; Quantity Purchases Require A Purchase Order and will ship via UPS. A shipping fee is added to the invoice.  Checks and Credit Cards Accepted. Make checks payable to Rosemary Augustine and mail your check to:
Rosemary Augustine / Blue Spruce Publishing
2175 Golf Isle Dr. #1024, Melbourne, FL 32935
About the Bucket List Journal
It's never too late to add or complete items on your bucket list.  The inside of this book offers you a place to dream and carry out those dreams – as many as 100 of them.  It might be a trip you want to take to a foreign land or a musical group you want to see in person.  It may be a new hobby you want to start or something as simple as organizing a drawer.  This book gives you the chance to set your sights on 100 things you would like to do before you die and gives you the space to write about your experience, your thoughts and whether it's something you would do again.  There is even space to paste a picture, memorabilia or create a sketch of your experience.  A journal you can return to time and again to remind yourself "I did that!"
The book offers a place to list 1-100 things to see or do; and then for each item #, you have a full page of journal prompts with space to write about your experience and a second page to add additional journaling thoughts and space to paste photos or memorabilia.
. . .