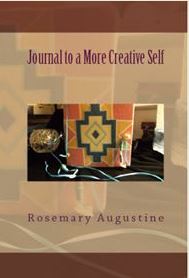 Title: Journal to a More Creative Self
Author: Rosemary Augustine
Publisher: Blue Spruce Publishing Company
ISBN: 9780964471153
Price: $14.95
Soft Cover Book with Trim Size:  5″ x 8″
Page Count: Approx.  88 pages
Contact Info: 610.647.8863
Contact the Author: info@RosemaryAugustine.com
Contact the Publisher: info@BlueSprucePublishing.com
Where to Find Journal to a More Creative Self 
  Amazon  |   Amazon Kindle   |   Smashwords    The Publisher
Individual or Quantity Purchases Direct From the Publisher
Book is $14.95 – Plus $3.00 Shipping
Individual books are shipped via USPS 1st Class Mail; Quantity purchases require a purchase order and will ship via UPS, shipping is added to invoice.  Checks and Credit Cards Accepted. Make checks payable to Rosemary Augustine and mail your check to:
Rosemary Augustine / Blue Spruce Publishing
2175 Golf Isle Dr. #1024, Melbourne, FL 32935
About  Journal to a More Creative Self:
This book offers six chapters for six weeks of intensely creative writings to heighten your sensory awareness and gain intuitive insight and meaning to your surroundings.
"This book really helped me have the art of living in the moment. Rosemary had us experimenting with all six senses, each one awakening something deeper in me. Six weeks well spent!" Carol Clark.
An opportunity to stretch your creativity, while expanding your writing skills. Each week you will explore one of your five senses: touch, smell, sight, sound and taste. The 6th week explore your 6th sense of intuition.
Journal to a More Creative Self gives you a chance to hone your writing skills making journaling a regular part of your daily life while working on areas to enhance your daily living – increasing your awareness, while building on your creativity – all in the comfort of your home.
As you explore a different sense each week, follow the prompts, examples, and special "tool" words to stimulate your writing around each week's topic.
. . .