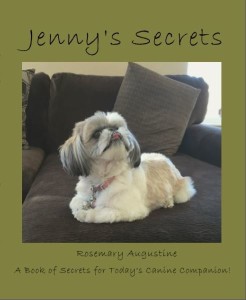 Title:  Jenny's Secrets
Book Designer and Author:  Rosemary Augustine
Publisher:  Blue Spruce Publishing
ISBN: 978-1-943581-03-0
Price:  $12.95
Soft Cover Book with Trim Size:  8" x 10"
Page Count:  150 pages
Contact Info: 610.647.8863
Contact the Author: info@RosemaryAugustine.com
Contact the Publisher: info@BlueSprucePublishing.com
Where to Find  
| Amazon | Bookstores* | The Publisher 
*Ask your bookstore to order direct from the wholesaler.
Individual or Quantity Purchases Available Direct From the Publisher
Book is $12.95 – Plus $3.00 Shipping
Individual books are shipped via USPS Media Mail within the United States only.
Quantity purchases require a purchase order and will ship via UPS. A shipping fee is added to the invoice.  Checks and Credit Cards Accepted.  Make checks payable to Rosemary Augustine and mail your check to:
Rosemary Augustine
Blue Spruce Publishing
2175 Golf Isle Dr., Suite 1024, Melbourne, FL 32935
About the Book
Jenny's Secrets is designed to look like a dog story book yet is disguised to be your personal internet password book for use at home or in the office. There is plenty of room with 150 pages, including space for entries such as the name of your account, the URL, your log in / user name, and password, as well as space for answers to security questions, a place for your account # and any additional notes. There is lots of white space in the margins for notes and the last 4 pages allows for additional notes, special instructions or a place to glue a 6" x 9" envelope (not included) and fill with licensing documentation or information.
Because of the disguising nature of the cover, you can display it on your desk with comfort that others will not know of its contents. We purposely did not add alphabetical letters to the margins since you have the option to enter your information alphabetically, numerically or by category so as not to restrict your use of this book. There is a lined space if you want to add any letter, word or number in the margin.  Let Jenny protect your most valuable information.  Order several today as they make a great gift for all the canine lovers in your life.  Use in good health and know that Jenny will keep your secrets safe inside.
. . .