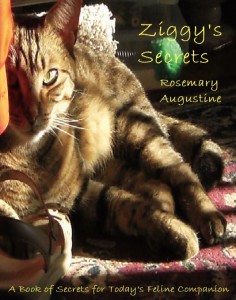 Title: Ziggy's Secrets (a personal internet password keeper)
Author: Rosemary Augustine
Publisher: Blue Spruce Publishing Company
ISBN: 9781943581009
Price: $12.95
Soft Cover Book with Trim Size: 8″ x 10″
Page Count: 150 pages
Contact Info: 610.647.8863
Contact the Author: info@RosemaryAugustine.com
Contact the Publisher: info@BlueSprucePublishing.com
Where to Find Ziggy's Secrets
Amazon    |   Bookstores*   | the Publisher
*Ask for it at your bookstore, they may have to order it from the distributor.
Info on Individual or Quantity Purchases Direct from the Publisher
 Book is $12.95 – Plus $3.00 Shipping
Individual books are shipped via USPS Media Mail
Quantity purchases require a purchase order, ship via UPS, shipping added to invoice.
Checks and Credit Cards Accepted.
Make checks payable to Rosemary Augustine and mail your check to:
Rosemary Augustine / Blue Spruce Publishing
2175 Golf Isle Drive #1024, Melbourne, FL 32935
610.647.8863
info@BlueSprucePublishing.com
About This Book:
My cat Ziggy has a secret!  And it's your secrets he is keeping.  Ziggy's Secrets is an Internet password keeper, designed to look like a cat story book yet is disguised to be your personal internet password log book for use at home or in the office. There is plenty of room with 150 pages, including space for entries such as the name of your account, the URL, your log in / user name, and password, as well as space for answers to security questions, a place for your account # and any additional notes. A larger than normal password book, it is designed to flip open easily; write your entries on either the left or right side of the pages; and if necessary, keep the page open as you copy the password onto your computer screen.  The book measures 8 x 10 inches and has room for over 500 entries. There is lots of white space in the margins for notes and the last 4 pages allows for additional notes, special instructions or a place to glue a 6″ x 9″ envelope (not included) and fill with licensing documentation or information.
Because of the disguising nature of the cover, you can display Ziggy's Secrets on your desk with the comfort that others will not know of its contents. And, because of its size, you will less likely misplace it. The author/designer purposely did not add alphabetical letters to the margins since you have the option to enter your information alphabetically, numerically or by category so as not to restrict your use of this book. There is a lined space (noted with paw prints) that is located on each page in the margin if you want to add any letter, word or number in the margin. This is a novel (gift) that is not to be read, but used daily by the most active internet users with a multitude of accounts and different passwords for each one.
"Like" Ziggy on Facebook at: Ziggy's Secrets or directly at www.Facebook.com/MyCoolCatZiggy. You can also visit Ziggy at his own website:  www.ThankGodImaFeline.com.
. . .